GR Regan Roofing repair and rebuild chimneys for all kinds of property in Sevenoaks.
Chimneys are often the most vulnerable structures on our homes. We expect a great deal from them. They have to withstand extreme heat and cold, they must face the worst of our British weather including occasional gale and hurricane force winds, and they are subject to chemical damage caused by hot corrosive flue gasses.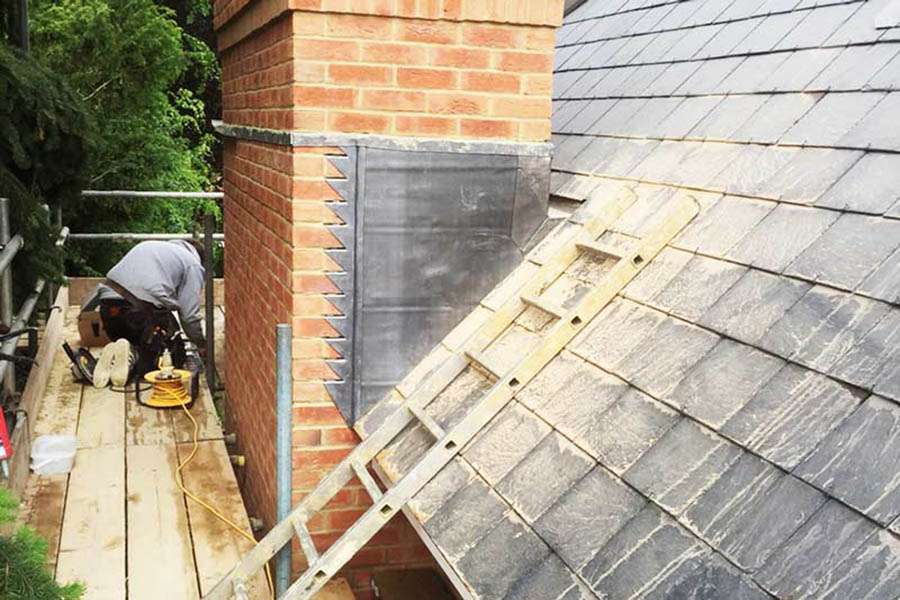 Apart from occasionally cleaning the flue, most people ignore their chimney until something major happens, though neglecting chimney maintenance can prove expensive. Generally the initial damage goes unnoticed. Small cracks in the mortar can appear that get worse over time; brickwork gets penetrated by moisture which freezes when the temperature drops causing cracks and fractures; the surface becomes flaky and the brick gradually disintegrates, a process known as spalling.
If left too long, damage can become serious. The chimney structure becomes increasingly weakened and vulnerable to storm damage, leaks occur and the rest of the building structure becomes vulnerable to water damage; and problems become increasingly expensive to fix.
Sevenoaks Chimney Repair Services
Most of these problems can be avoided by a little maintenance such as repointing the mortar and repairing any bricks that have become weakened. Typical chimney repairs and maintenance that we undertake are:
Chimney repointing
Repairing and replacing cracked mortar on chimney crowns
General repairs to chimney stacks
Replacing dislodged bricks
General brickwork
Replacing damaged chimney pots
Repair of lead flashings
GR Regan and Son have 30 years experience in providing chimney maintenance services. We recommend that chimneys should be inspected regularly to check for any damaged pointing, decaying brickwork and stone, signs of damp and leaks, cracks to chimney crowns, crumbling or loose flaunching, loose mortar, spalling brickwork, damaged or dislodged chimney pots, leaning chimney stacks, any vegetation growth, or any other problems. Any of these require urgent attention in order to prevent further damage and more costly repairs down the line.
We are happy to provide you with a free estimate to inspect and repair your chimney whatever its condition